by Jen Rudland, head designer, Decorative Events & Exhibitions (DE&E)Winter is a beautiful time of the year, and one that gives the team at DE&E a unique scope for designing and styling events. So as guests wrap themselves in a warm coat and make their way to your event, here are some tips to consider when styling at this time of year.
Embrace the Winter colour palette.
Winter allows us to play with many colour palettes. Be bold and stray from the expected and bring together seemingly disparate colour swatches such as charcoal greys, dark blues, violets and emerald or forest greens. Earthy warm colours such as terracotta, sand, rust, olive green, cinnamon evoke a warm lively atmosphere.
Use beautiful textures, florals and decorative finishes.
Think luxe draping, velvet on velvet, opulent table cloths, fur, leathers, warm timber, beaten metal and matte finishes. These textures all speak of coming together to share time, create conversations and memories.
Keep patterns in mind such as tartan and tweed, both synonymous with Winter styling. Bring these into play further by adding scatter cushions or table runners. Sometimes the simplest touch such as a kilt pin to dress your napkins can make all the difference.
For the ultimate Winter tablescape, incorporate metal features such as rose gold and bronze vases, brass candle holders and bespoke pewter decorative pieces. Cut crystal chargers combined with gold mosaic charger plates create a sophisticated soiree.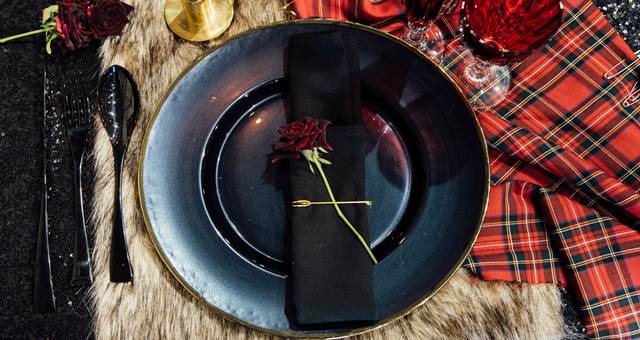 It's all about lighting.
Regardless of your theme or style, each event has its own personality and in creating this, lighting is pivotal. Crisp or intimate, let lighting play a key role as you create your space. Floor lamps are perfect.  Alternately, a canopy of fairy lights provides an enchanting backdrop.
Layers of candlelight never cease to bring warmth on a wintery eve, and more is more. Using coloured candles can further enrich the story – from elegant tapered dinner candles to an array of pillars.
Cater to the elements.  
For that final touch, enhance your space with a contemporary fireplace for extra ambiance. Pair that with comfortable lounge areas and your guests will stay for the duration of your event. Add rugs beneath lounge clusters for added warmth.
One last thing, guests will often be wearing layers when they arrive so consider a cloaking service for coats, bags, umbrellas and scarves. This is a touch of service that will be well appreciated.